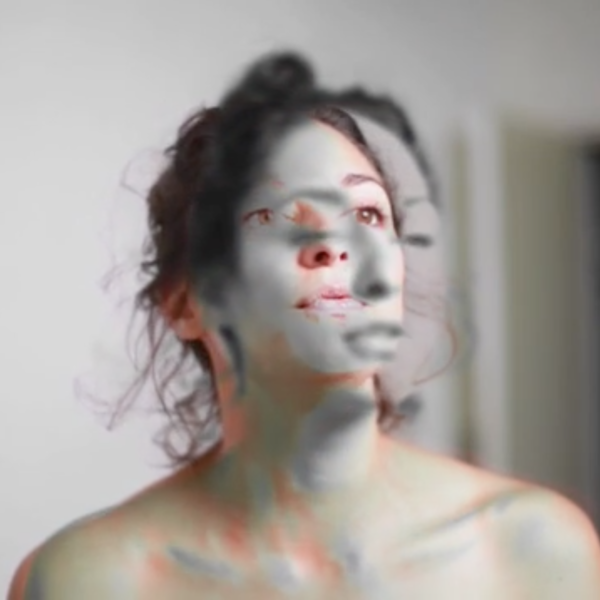 Vidya-Kelie Juganaikloo is a French-Mauritian transmedia artist, born in France, living and working in Paris.
Vidya-Kelie proposes a series of traces and exchanges around sensitive phenomena as tools of conmunication.
Her work explores concepts such as trust, law, beliefs, time, love, data, space, knowledge, memories, magnetism, passions (…) through conceptual works that unfold as intimate connections between the artist, the work and the viewer.
BIO
With a dual culture, she inherits the optimism of a connected and communicating universe. At the same time, the promises of digital and science surfing on similar concepts, Vidya-Kelie does not hesitate to use resources developed for the emancipation of the digital space and science as tools, materials or media to feed her projects.
Through sometimes interactive, sometimes contemplative experiences, the artist evokes the power of bodies, their interconnections, their capacities to transmit and receive in a biological, social or physical dimension.

By confusing the scales of time or space, she continues her work in which she puts in parallel what exceeds us and what we try to control.
The artist also questions the place we give to the « Process » before the « Objective ». Borrowing keys from applied philosophy, ecofeminism or linguistics, she is committed to its valorization and transmission.
TIMELINE
After attending the Ecole des Beaux-Arts in Angers, she trained in graphic design and code in order to create her own digital works.
Vidya-Kelie begins to exhibit her work as a painter where she exploits the abstraction of bodies transformed by their emotions. Then she develops a graphic style close to the abstraction based on the figuration of the one feels.
She joined the Ellia gallery where she exhibited her first solo show of drawing in 2016.
The artist exhibits sent.vidyakelie.com online at AreByte London for a group exhibition as well as CADAF, integrating the catalog of the HARDDISKMUSEUM.
She is a member of the collective KIND OF KIN, a group of reflection around the anthropocene and ecofeminism which obtains several FRAC residencies between the Metaxu, Toulon and LE LIEU DE L'AUTRE, Arceuil. Vidya-Kelie will develop her project around magnets as well as UTERO INFERNALIS, a project inspired by the fiction of Louis Bec.
In 2021, she will join a new women's collective called BAUBO, a project supported by the DRAC Occitanie where she will develop a subject on ecofeminism applied with digital tools; an augmented reality application making photons appear and a video transforming the episodes of encounters that naturally took place on the spot as pieces in their own right.
She integrates the catalog of the Natalia Bento Gallery where she is the first digital artist in 2022 with her piece SUNPATH, trajectories of digital sun.