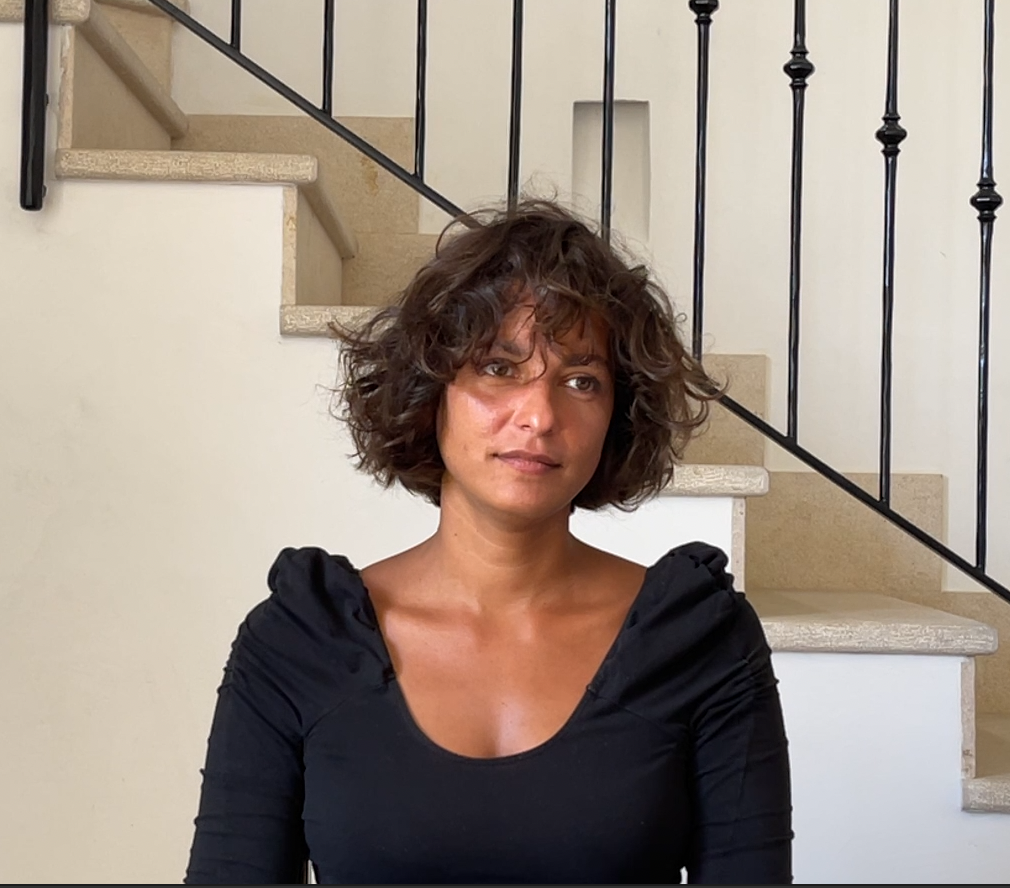 VIDYA – KELIE JUGANAIKLOO
Vit et travaille à Paris. Questionnant la façon dont l'humain vit dans ses multiples environnements, les projets de Vidya-Kélie s'inspirent des expéditions naturalistes ou archéologiques, impliquant des matériaux, tels que la pensée, la sémiologie, la technologie, la philosophie, la transmission ou la science comme révélateur de liens entre eux. On retrouve les gestes de la recherche, de l'explorateur, du biochimiste, du détective ou de l'archéologue comme outil pour rendre visible ces connexions entre différents corps de manière frictionnelle, unilatérale, éphémère ou parfois même échoïque.
Après l'Ecole des Beaux-Arts d'Angers, elle se forme au design graphique et au code afin de pouvoir réaliser ses propres travaux digitaux. Elle appartient au collectif KIND OF KIN, groupe de réflexion autour de l'anthropocène, composée de 5 artistes plasticiens et sous la tutelle d'Axelle Rossini ainsi qu'au collectif de femme BAUBO ou elle développe un sujet  sur l'ecofeminisme appliquée avec des outils digitaux. En 2018, Vidya-Kelie commence un ouvrage de réflexion sur la topographie du medium. Incluant des résidences sur l'habitation techno-organique avec Melanie Puyraimond.
Elle enseigne le dessin à L'ENAC jusqu'en 2021 puis fonde de nouveaux ateliers ART & CARE, CULTURE OF CULTURE en 2022.
Voir lien vers les expositions 2017 /2021
BIOGRAPHY
Lives and works in Paris. Questioning the way humans live in their multiple environments, Vidya-Kélie's projects are inspired by naturalistic or archaeological expeditions, involving materials such as thought, semiology, technology, philosophy, transmission or science as revealing links between them. We find the gestures of research, the explorer, the biochemist, the detective or the archaeologist as a tool to make visible these connections between different bodies in a frictional, unilateral, ephemeral or sometimes even echoic way.
After the School of Fine Arts in Angers, she trained in graphic design and code in order to be able to create her own digital works. She belongs to the KIND OF KIN collective, a think tank around the Anthropocene, made up of 5 visual artists and under the tutelage of Axelle Rossini as well as to the BAUBO women's collective where she develops a subject on applied ecofeminism with digital tools. In 2018, Vidya-Kelie begins a work of reflection on the topography of the medium. Including residencies on techno-organic housing with Melanie Puyraimond.
She teaches drawing at ENAC until 2021 then founds new workshops ART & CARE, CULTURE OF CULTURE in 2022.