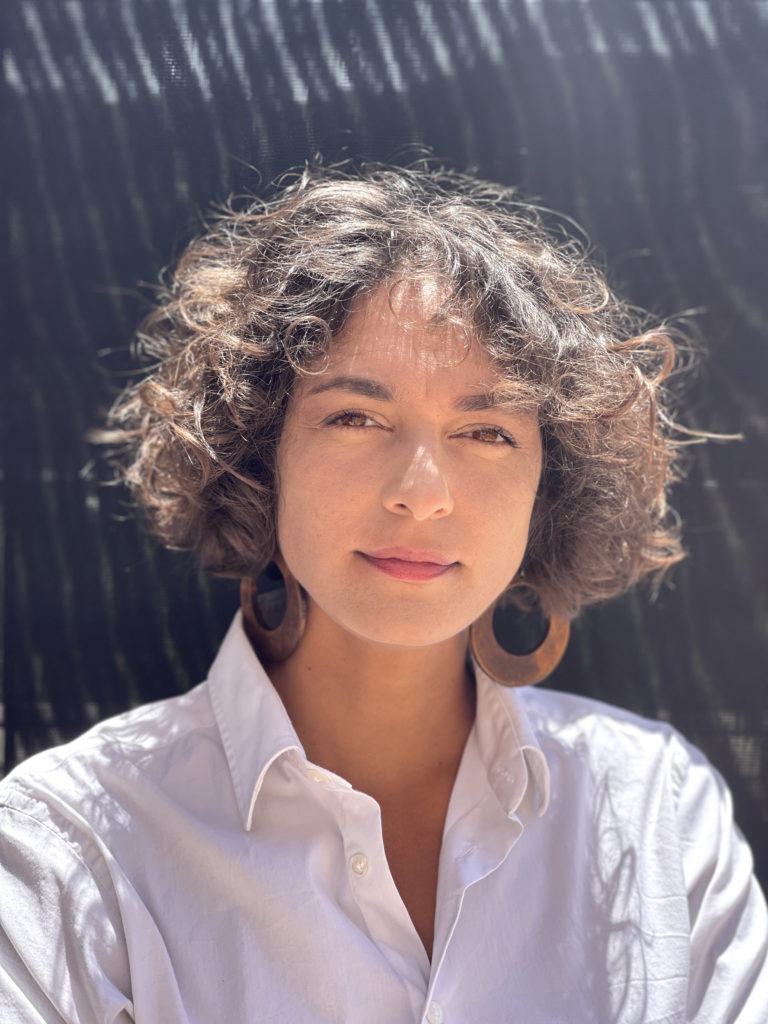 VIDYA – KELIE JUGANAIKLOO
Vidya-Kelie Juganaikloo est une artiste Franco-Mauricienne, née en France, vivant et travaillant à Paris.
Issue d'une double culture, elle hérite par ses origines indiennes de la vision d'un univers holistique et connecté. Parallèlement, les promesses du numérique et de la science surfant sur des concepts voisins, Vidya-Kelie n'hésite pas à utiliser des ressources développées pour l'émancipation de l'espace digital comme outils, matières ou médias pour nourrir ses projets.
Par le biais d'expériences transmédias parfois interactives, parfois contemplatives, l'artiste évoque la puissance des corps, leurs interconnections, leurs capacités d'émission et de réception dans une dimension biologique, sociale ou physique.
En confondant les échelles de temps ou d'espace, elle poursuit son travail dans lequel elle met en parallèle ce qui nous dépasse et ce que nous tentons de contrôler.
L'artiste questionne également la place que l'on confère au «Processus» avant l'»Objectif». En empruntant des clefs issues de la philosophie appliquée, de l'écoféminisme ou encore de la linguistique, elle s'engage dans sa valorisation et sa transmission.
«La rapidité des calculs qu'une machine est capable de traiter en 1 seconde nous amène à considère la notion de «temps réel» comme une temporalité à part entière faisant évoluer les paradigmes de la représentation du processus qui, avant d'avoir trouvé une place, se retrouve coincé entre 0 et 1»
TIMELINE
Après l'Ecole des Beaux-Arts d'Angers, elle se forme au design graphique et au code afin de pouvoir réaliser ses propres travaux digitaux.
Vidya-Kelie commence à exposer ses travaux de peintre ou elle exploite l'abstraction des corps transformés par leurs émotions. Puis elle développe un style graphique proche de l'abstraction se basant sur la figuration de celle ressent.
Elle intègre la galerie Ellia ou elle expose ses premiers solo show de dessin en 2016.
Elle expose sent.vidyakelie.com en ligne à AreByte Londres pour une exposition collective ainsi qu'a CADAF, intégrant le catalogue du HARDDISKMUSEUM.
Elle est membre du collectif KIND OF KIN, groupe de réflexion autour de l'anthropocène et l'écoféminisme qui obtient plusieurs résidences FRAC entre le Metaxu, Toulon et LE LIEU DE L'AUTRE, Arceuil. Vidya-Kelie développera son projet autour des aimants ainsi qu'UTERO INFERNALIS, un projet inspiré de la fiction de Louis Bec.
Elle intègre en 2021 un nouveau collectif de femmes nommé BAUBO, projet soutenu par la DRAC Occitanie ou elle développe un sujet sur l'écoféminisme appliquée avec des outils digitaux ; Une application en réalité augmenté faisant apparaitre des photons et une vidéo transformant les épisodes de rencontre qui se sont naturellement déroulés sur place comme des pièces à part entière.
Elle intègre le catalogue de la Galerie Natalia Bento ou elle est la première artiste digitale en 2022 avec sa pièce SUNPATH, trajectoires de soleil digitaux.
Voir lien vers les expositions 2017 /2022
ISSUES
Vidya-Kelie Juganaikloo is a French-Mauritian artist, born in France, living and working in Paris.
Coming from a double culture, her Indian origins give her the possibility of a vision of a connected universe. At the same time, the promises of digital surfing on concepts quite similar, Vidya-Kelie does not hesitate to use resources developed for the emancipation of the digital space as tools, materials or media to serve its purpose.
Through transmedia experiences, sometimes interactive, sometimes contemplative, the artist evokes the power of bodies, their interconnections, their capacities of emission and reception in a biological, social or physical dimension.
By confusing the scales of time or space, she continues her work in which she puts in parallel what exceeds us and what we try to control.
The artist also questions the place we give to the « Process » before the « Objective ». Borrowing keys from applied philosophy, ecofeminism or linguistics, she is committed to its valorization and transmission.
« The speed of the calculations that a machine is able to treat in 1 second leads us to consider the notion of « real time » as a temporality in its own right, making the paradigms of the representation of the process evolve, which, before having found a place, finds itself stuck between 0 and 1.
TIMELINE
After attending the Ecole des Beaux-Arts in Angers, she trained in graphic design and code in order to create her own digital works.
Vidya-Kelie begins to exhibit her work as a painter where she exploits the abstraction of bodies transformed by their emotions. Then she develops a graphic style close to the abstraction based on the figuration of the one feels.
She joined the Ellia gallery where she exhibited her first solo show of drawing in 2016.
She exhibits sent.vidyakelie.com online at AreByte London for a group exhibition as well as CADAF, integrating the catalog of the HARDDISKMUSEUM.
She is a member of the collective KIND OF KIN, a group of reflection around the anthropocene and ecofeminism which obtains several FRAC residencies between the Metaxu, Toulon and LE LIEU DE L'AUTRE, Arceuil. Vidya-Kelie will develop her project around magnets as well as UTERO INFERNALIS, a project inspired by the fiction of Louis Bec.
In 2021, she will join a new women's collective called BAUBO, a project supported by the DRAC Occitanie where she will develop a subject on ecofeminism applied with digital tools; an augmented reality application making photons appear and a video transforming the episodes of encounters that naturally took place on the spot as pieces in their own right.
She integrates the catalog of the Natalia Bento Gallery where she is the first digital artist in 2022 with her piece SUNPATH, trajectories of digital sun.